Directors' Musings: Ketan & Jatin Chokshi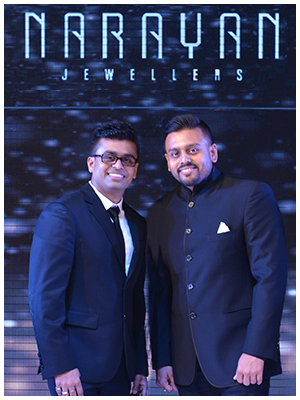 Dear Patron,
Thanks to your continual support for 81 years and counting, Narayan Jewellers has been soaring. A Modernist Traditionale Luxury Designer Brand, Narayan Jewellers is a milieu of 80 years of a rich tradition and the post modernist contemporary designs in luxury. From being one of the leading jewellers of Gujarat, today we are a global luxury brand due to our uncompromised purity and unmatched designs. Whether it is diamonds, real polki, coloured precious stones or gold, excellence is our hallmark. Narayan redefines global luxury from limited edition to one in a million as every piece is unique, just like our customers. Trust is our undisputable guarantee.
We always train the spotlight on Luxurious Quality. Be it giving full disclosure about the quality of our creations, design practices or product services, our long-term vision for our brand is keeping sustainable practices in mind. With changing times and styles, creating a piece that has a long 'wardrobe life' is what we focus on.
Every piece of jewellery we craft is a masterpiece – innovatively designed, technically engineered, aesthetically engaging. An eyeball grabber. A conversation starter. A showstopper. This is the reason Narayan's jewellery is cherished world over – among Bollywood and Hollywood celebrities, on the international red carpet, at dazzling awards shows, and at the weddings of Bollywood celebrities, prominent industrialists and the who's who of India's eminent families.
At the 2013 Forevermark Oscars Zone, India's first jewellery piece hit the red carpet from Narayan Jewellers – this was a huge milestone! Over the last eight years, we have been participating at the Forevermark Oscars Zone every year; so too at the New York Fashion Week and several other global red carpet events.
We will be launching our global e-commerce brand soon. While Narayan Jewellers focuses on customisation and exclusivity, making one-of-a-kind pieces, our global e-commerce brand will guide you through a filtration process to choose what you like best.
We are deeply grateful to you, dear patron, because you inspire us to keep innovating and creating; motivating us to reach for the stars. You makes us who we are. Thank You for being with us on our sparkling, bejewelled journey!
With Love,
Ketan & Jatin
Find out first about our launches, exclusive offers and private pop-ups.